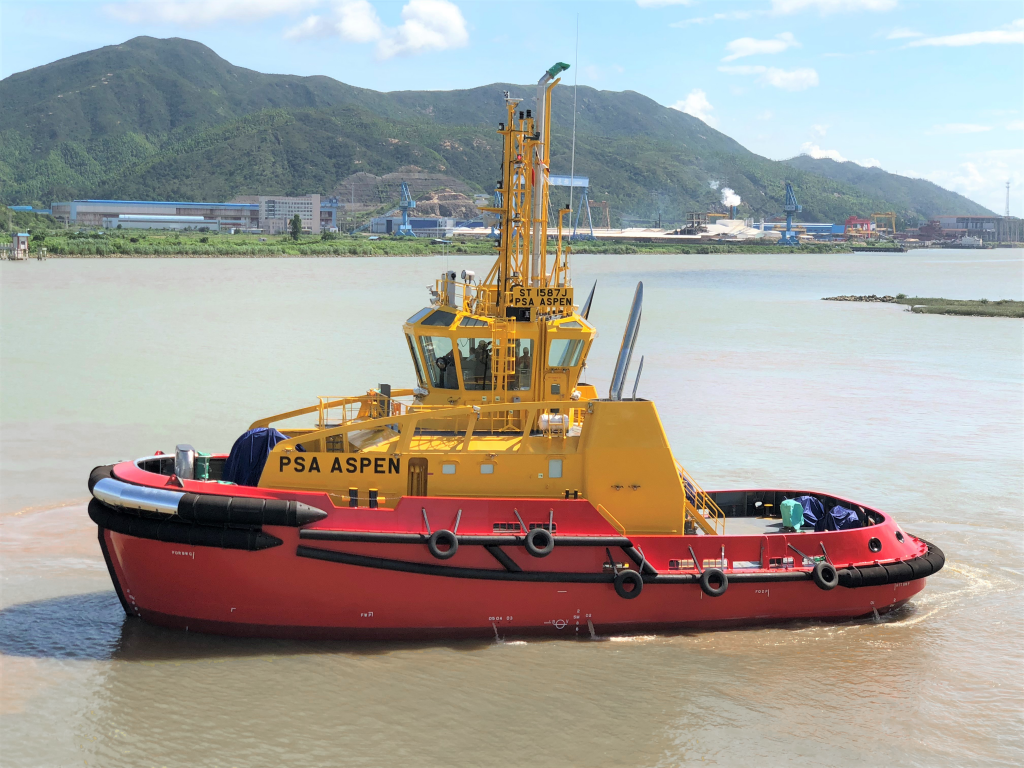 PaxOcean Holdings Pte Ltd ("PaxOcean") has delivered a 28-metre long, 50-tonne bollard pull dual-fuel LNG tug to PSA Marine.
The harbour tug, PSA Aspen, operates on two Wartsila 20DF engines running either diesel or LNG mode, is compliant with IMO emission requirements. The main propulsion for the tug comprises a pair of Niigata 6L28AHX-DF main engines and 25m3 vacuum insulated IMO Type C LNG storage tank and fuel gas system.
PaxOcean is on track to deliver the second dual-fuel LNG tug, PSA Oak, by October this year. Designed by Robert Allan, both tugs were built to the requirements of the classification society Bureau Veritas (BV).
About PSA Marine
PSA Marine is the leading marine services provider with flagship operations in Singapore. The company has gained a strong foothold in its core businesses, towage and pilotage. Over the years, the business portfolio has expanded to include marine advisory, ship-to-ship transfer, navigational audit, crew transfer in the offshore wind industry, and training and consultancy services.
About PaxOcean Holdings Pte Ltd
A subsidiary of Kuok Singapore Limited, PaxOcean owns and operates 6 shipyards located in Singapore, China and Indonesia. First established in 2007 in Singapore, PaxOcean offers a wide range of services covering offshore engineering, rig building, ship and rig repair, maintenance and conversion.
For more information, visit us at www.paxocean.com