PaxOcean has delivered Indonesia's first LNG-Fuelled harbour tug to PT Pertamina Trans Kontinental ("PTK"), at the naming and delivery ceremony held at PaxOcean Graha Trisaka yard in Batam Indonesia. The 34-metre long, 60-tonne bollard pull LNG dual-fuel tug, Transko Rajawali, built to PaxOcean's design, was delivered on time with a perfect safety record.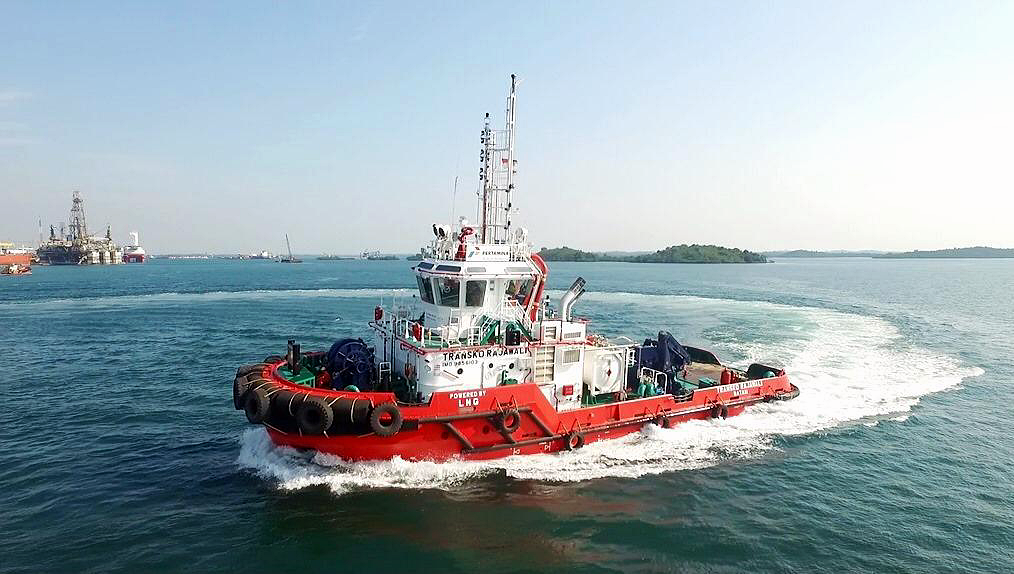 "I am proud that we are aligned with the industry's increasing emphasis on environmental impact," said Mr Tan Thai Yong, Chief Executive Officer of PaxOcean.
The main propulsion for the tug comprises a pair of Niigata Z-Peller engine, equipped with a type-C ISO-certified LNG tank on the main deck. "This modern, efficient and environmentally sustainable harbour tug works on a containerised LNG Fuel Tank system allowing a "Plug and Play" refuelling method which greatly reduces the downtime needed for refuelling process", he added.
The event was graced by Bapak Gandhi Sriwidodo, Director of Logistics, Supply Chain and Infrastructure of PT Pertamina (Persero) and Bapak Nepos MT Pakpahan, President Director of PTK.
In his welcome address, Bapak Gandhi Sriwidodo, said, "The dual-fuel LNG engines which can be operated using either LNG or diesel as fuel, is a relatively new concept for PTK. PaxOcean has provided us with their expertise and maximum contribution in executing this project within schedule.
Bapak Nepos MT Pakpahan added, "This state-of-the-art tug is the first owned by PTK and she will be operating in Indonesia. Besides having environmentally friendly features, the tug can save operating costs between 10-15% due to its fuel efficiency."
Transko Rajawali will be operated in Loksumawe, Aceh on a three-year contract for PT Perta Arun Gas.
About PaxOcean Holdings Pte Ltd
A subsidiary of Kuok Singapore Limited, PaxOcean owns and operates 6 shipyards located in Singapore, China and Indonesia. First established in 2007 in Singapore, PaxOcean offers a wide range of services covering offshore engineering, rig building, ship and rig repair, maintenance and conversion.
For more information, visit us at www.paxocean.com