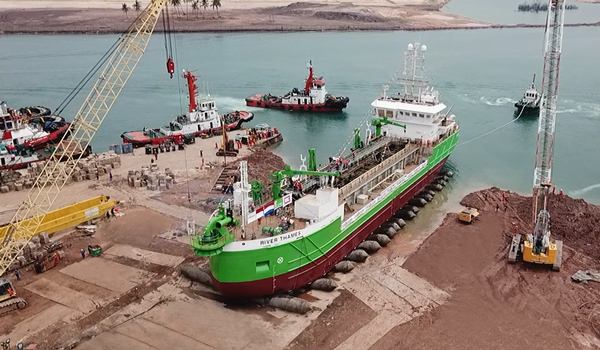 PaxOcean is on track to deliver a trailing suction hopper dredger (TSHD) to Royal IHC. The dredger was named River Thames by Lady Sponsor Mrs. D'Haeze, at a ceremony held at PaxOcean Graha yard in Batam, Indonesia.
The launch marks a significant milestone in the construction of the River Thames, which is expected to be delivered in 2020.
With a hopper capacity of 2,300m³ and a maximum dredging depth of 30 meters below the waterline, the vessel is designed to maintain sea and inland waterways, as well as perform land reclamation.
The compact vessel, characterised by a small draught, offers high manoeuvrability can be deployed for projects in shallow water worldwide.           
About Royal IHC
Royal IHC is a reliable supplier of innovative and efficient equipment, vessels and services for the offshore, dredging and wet mining markets. We have a history of providing reliable solutions for the most difficult maritime challenges from sea level to ocean floor and sustainable life-cycle support from sites and offices on every continent.
About PaxOcean Holdings Pte Ltd
A subsidiary of Kuok Singapore Limited, PaxOcean owns and operates 6 shipyards located in Singapore, China and Indonesia. First established in 2007 in Singapore, PaxOcean offers a wide range of services covering offshore engineering, rig building, ship and rig repair, maintenance and conversion.
For more information, visit us at www.paxocean.com