KSL Maritime Group helms Alliance to accelerate coastal decarbonisation, transition to a circular economy and strengthen marine supply chains
Aim for 50% reduction in vessel carbon emissions and 20% in marine traffic by 2030
Design, build and deploy 10 PXO electric vessels by 2025
SINGAPORE, 14 March 2022 – Kuok (Singapore) Limited Maritime Group, comprising PaxOcean Holdings Pte Limited (PaxOcean), Pacific Carriers Limited (PCL) and POSH (PACC Offshore Services Holdings), today announced the launch of the Coastal Sustainability Alliance (CSA) at an MOU launch and formalisation ceremony held at the Shangri-La Singapore. The event was attended by representatives of the Alliance, senior industry leaders and graced by Guest-of-Honour, Dr Tan See Leng, Minister for Manpower and Second Minister for Trade and Industry.
The CSA members include the Agency for Science, Technology and Research (A*STAR), GenPlus, Jurong Port Singapore, Sea Forrest, Technology Centre for Offshore and Marine, Singapore (TCOMS), and TES. By 2030, the Alliance aims to build the next-generation of Singapore's maritime ecosystem and accelerate the decarbonisation, electrification and advancement in energy-efficient logistics and engineering solutions. The CSA is expected to invest over S$20 million into various sustainability efforts over the next ten years.
Mr Tan Thai Yong, Chief Executive Officer, PaxOcean and Chairperson, CSA Council, said:
"Innovation through vessel electrification is one of the significant ways to decarbonise the coastal maritime industry. To succeed, a robust private-public partnership approach is needed to build infrastructure, capabilities, technology and services, driven by a diversified talent pool. With the launch of the Coastal Sustainability Alliance today, we will create Singapore's next-generation coastal ecosystem and contribute to the industry's sustainability, resilience, and transition to a circular economy.
Our Alliance is committed to making this a reality, and we encourage further industry collaborations to scale the coastal ecosystem. We welcome more partners to join us on this journey."
Ms Quah Ley Hoon, Chief Executive of Maritime and Port Authority of Singapore (MPA), said: "MPA congratulates all members of the Coastal Sustainability Alliance. We look forward to working closely with the Alliance to develop a sustainable maritime sector, in particular, shaping common standards for charging infrastructure and electric harbour craft and supporting the development of green financing mechanisms and solutions for green harbour craft."
The multi-stakeholder effort is centred on five strategic areas:
Reduce carbon emissions by up to 50% with PXO vessel series – The CSA will adopt a suite of 10 innovative technologies designed into the vessels, such as wireless charging, advanced manufacturing and coastal twinning, with more in the pipeline. With a complete redesign of a conceptual, fully electric PXO series of vessels and floating platforms, the PXO vessels will demonstrate improved performance in energy efficiency and operating range, while reducing emissions.

Reduce e-waste and build a comprehensive E-charging infrastructure network – The CSA aims to reduce battery e-wastage by upcycling electric vehicle (EV) batteries into optimised modular battery packs to serve as Energy Storage Systems (ESS) for marine use. In conjunction, a comprehensive network of shore and mobile e-charging points along Singapore's coastline will enable interoperable shore-to-ship and ship-to-ship charging of the PXO vessels and platforms.
Collectively, this will be Singapore's first comprehensive, customised approach to decarbonise the logistics supply chain from vessel redesign, infrastructure and marine services in promoting cleaner and more efficient harbour crafts. It also supports the industry transition to a circular economy with reduced resource use and future-proofing the vessels with environmentally sustainable energy sources, such as solar and tidal.
Reduce marine traffic by 20% through logistics and fleet optimisation solutions – Utilising the range of PXO vessels and mobile coastal platforms, the Alliance targets to reduce Singapore's coastal marine traffic and improve safety. The reduced congestion will be achieved through fleet optimisation and renewal, mobile floating platforms in selected locations in coastal waters off Singapore, and sea and aerial drones for last-mile deliveries to improve operational range and reduce downtime.
Foster a sustainable green supply chain and maritime business ecosystem by supporting the growth of SMEs and start-ups – By engaging the strengths of each Alliance member, the CSA intends to co-create viable innovation and business opportunities with local SMEs and start-ups to build a supply chain of sustainable logistics and engineering innovations, charging infrastructure and capabilities. This is poised to strengthen the competitiveness of the SMEs and uplift the entire value chain of the maritime industry.
Talent attraction and workforce upgrading – A future-ready talent pool is critical to maintaining Singapore as a leading global maritime centre. CSA expects to create new jobs, offer career growth opportunities, skills and reskilling training to increase the competitiveness of our Alliance members. The CSA will also work with educational institutions to pursue joint opportunities for young talents.
Creating the future E-Vessels: PXO Concept Vessel
The first phase of CSA's efforts is to design and deploy 10 PXO vessels customised for Singapore's coastal ecosystem by 2025.
To initiate the PXO design, Master Research Collaboration Agreements (RCAs) were formalised today between KSL Maritime Group and A*STAR as well as TCOMS to co-innovate, design and build a full electric vessel customised for Singapore's maritime coastal ecosystem. The redesigned vessel is expected to reduce carbon emissions by 50%, lower energy consumption, and extend the operating range.
Using artificial intelligence (AI), a digital twin of the vessel will undergo operational simulations to achieve energy efficiencies for various harbour crafts. Additionally, integrating with TCOMS' digital twin of Singapore's port waters will support the predictive optimisation of marine traffic, harbour fleets and logistics flow and develop remotely managed vessels and drones in the coastal ecosystem.
The PXO conceptual redesign is expected to be revealed later this year, with plans to extend the ecosystem internationally from 2027 onwards
Committed to Decarbonise the Maritime Industry
KSL's Centre for Excellence Engineering R&D anchors the CSA initiatives, providing a comprehensive platform for systematic fleet optimisation, renewal and decarbonisation through electrification.
This is in line with the Maritime and Port Authority of Singapore's (MPA) strategic aim to promote maritime technology R&D, and for Singapore to be recognised as an international centre for maritime R&D. The CSA's innovations and services are also aligned with Singapore's green energy targets set out in the Singapore Green Plan 2030. It also aspires to become an international best practice in maritime decarbonisation.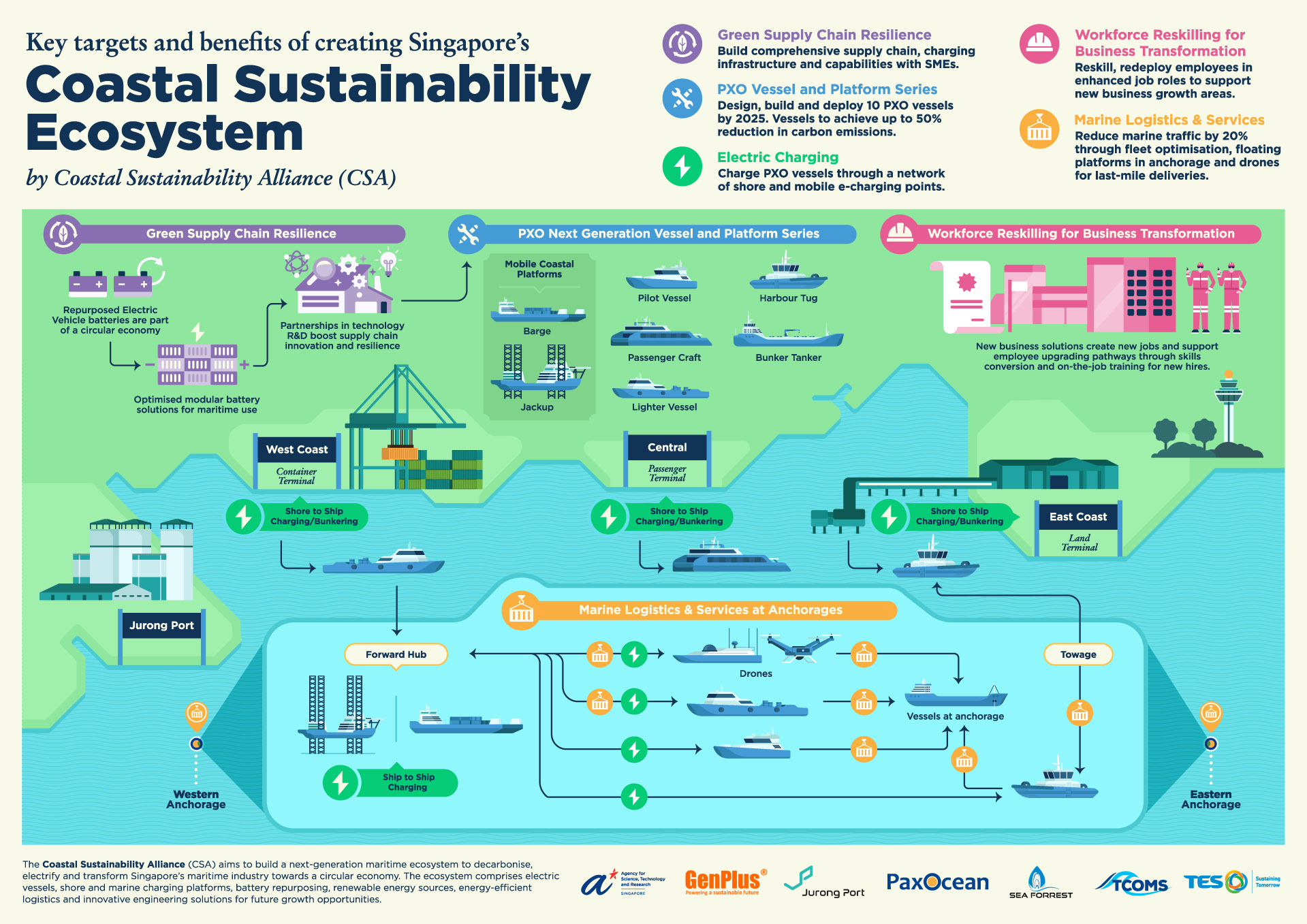 – END –
About Kuok (Singapore) Limited and KSL Maritime Group
Kuok (Singapore) Limited (KSL) is an investment holding company with interests in maritime activities, agrisolutions, property and equity investments in various listed companies. KSL was founded in 1948 and has since grown into a Group with a multi-billion asset base. KSL shares common heritage with two other holding companies, namely Kerry Holdings Limited in Hong Kong and Kuok Brothers in Malaysia, in that they were all founded by the Kuok family. The subsidiaries under KSL include but not limited to PACC Offshore Services Holdings (POSH), Pacific Carriers Limited (PCL), PaxOcean Group, AllGreen Properties, Agrifert Group and K2 Data Centres. The Group will continue to build on its legacy and bring entrepreneurial spirit, heart and ambition to businesses in Asia as it innovates for the future.
Kuok (Singapore) Limited (KSL) Maritime Group offers an integrated suite of services to partners to grow their businesses successfully and sustainably. Its maritime companies of PACC Offshore Services Holdings (POSH), Pacific Carriers Limited (PCL), PaxOcean Group and KSL Maritime Ventures (KMV) serve the maritime value chain from offshore oil, gas and renewables support services, shipping and transportation, vessel maintenance and newbuilding to supporting start-up investments. Anchored in bringing leading-edge, innovative solutions and services to the industry, the Group is committed to sustainability and uplifting the entire maritime value chain.
For more information, visit www.kuokgroup.com.sg
About PaxOcean
A subsidiary of Kuok Singapore Limited, PaxOcean owns and operates five shipyards located in Singapore, China and Indonesia. First established in 2007 in Singapore, PaxOcean offers a wide range of services covering newbuilding, module fabrication, green recycling, repairs and conversion of conventional and renewable energy assets.
­For more information, visit www.paxocean.com
Ms Jocelyn Ng-Foo / Chwen Yiing Lim
LivingWord Communications
M: +65 9431 6141 / +65 9847 0479
Email: ksl@livingwordcommunications.asia
Ms Juliana Tan
Marketing & Communications
PaxOcean Engineering Pte Ltd
DID: +65 6839 7876
Email: juliana.tan@paxocean.com
ANNEX 1
Coastal Sustainability Alliance - Quote Sheet
Spokesperson name / Designation
Company
Key Contribution Area
Quote
1
Prof Alfred Huan, Assistant Chief Executive, Science and Engineering Research Council, A*STAR
A*STAR
Co-creation of concepts and development of smart technologies, involving smart manufacturing, artificial intelligence, big data driven simulation and optimisation, and smart systems, to enhance the performance and safety of electric vessels.
Our collaboration with the Coastal Sustainability Alliance enables the industry to tap on a wide spectrum of public research capabilities and technologies built up within Singapore's Research, Innovation and Enterprise ecosystem, to realise the series of purpose-built electric vessels that ply Singapore's coastal waters. These include capabilities in smart manufacturing, wireless power electronics, battery development, artificial intelligence, modelling and simulation, and more.
2
Lim Ming Chiat, Managing Director
GenPlus
Lead development and commercialisation of energy storage and battery management systems.
Our expertise in energy storage and electric systems will help the Coastal Sustainability Alliance to manage demand for energy from repurposed batteries and renewable energy sources. In addition, we ensure that batteries recovered and reused can scale to meet the energy demands of hybrid and fully electric vessels.
3
Ooi Boon Hoe, CEO
Jurong Port
Lead ship chandelling operations to optimise fleet solutions and consolidate marine supply chain initiatives with SMEs.
Our ambition to develop the next generation multipurpose port aligns with our role in the Coastal Sustainability Alliance to optimise fleet solutions and engage with SMEs to improve port efficiency and reduce maritime congestion. Furthermore, by adopting the CSA's shore-based charging infrastructure, we endeavour to elevate industry standards in ship chandelling operations.
4
George Lee, CEO
Sea Forrest Power Solutions
Lead development and commercialisation of wireless charging and electrification technologies.
Our expertise in wireless charging technology allows Sea Forrest to elevate the efficiency and interoperability of this technology and bring its commercialisation to scale. We are excited to break new ground with the Coastal Sustainability Alliance to build an ecosystem of wireless charging points onshore and at sea, which will be accessible to hybrid and fully electric vessels.
5
Professor Chan
Eng Soon, CEO,
TCOMS
Technology Centre for Offshore and Marine,
Singapore (TCOMS)
Co-creation of concepts and development of technologies, involving the use of modelling & simulation, digital twinning of vessels and the port waters environment, to enhance the performance and safety of electric vessels.
As a national R&D centre dedicated to the maritime and other ocean sectors, TCOMS seeks to contribute its modelling and simulation capabilities to recreate complex operating scenarios, and help the Alliance enhance the design and performance of the PXO series of electric vessels. This would involve the use of a digital twin of Singapore's port waters to support the creation of optimised traffic flows and other operations.
6
Desmond Toh,
Senior Business Development Manager
TES
Lead development and commercialisation to repurpose and optimise EV batteries for marine use.
Our mission to make a decade of difference and move the needle on sustainability and climate change are why we choose to be a part of the Coastal Sustainability Alliance. As a global leader in technology lifecycle services, we will help the maritime industry transition to a circular economy by repurposing electric vehicle batteries and optimising for marine use.
Annex 2 – Related Materials
Animated Explainer Video: Building The Next-Generation Maritime Ecosystem
News coverage from:
Manifold Times
Channel News Asia