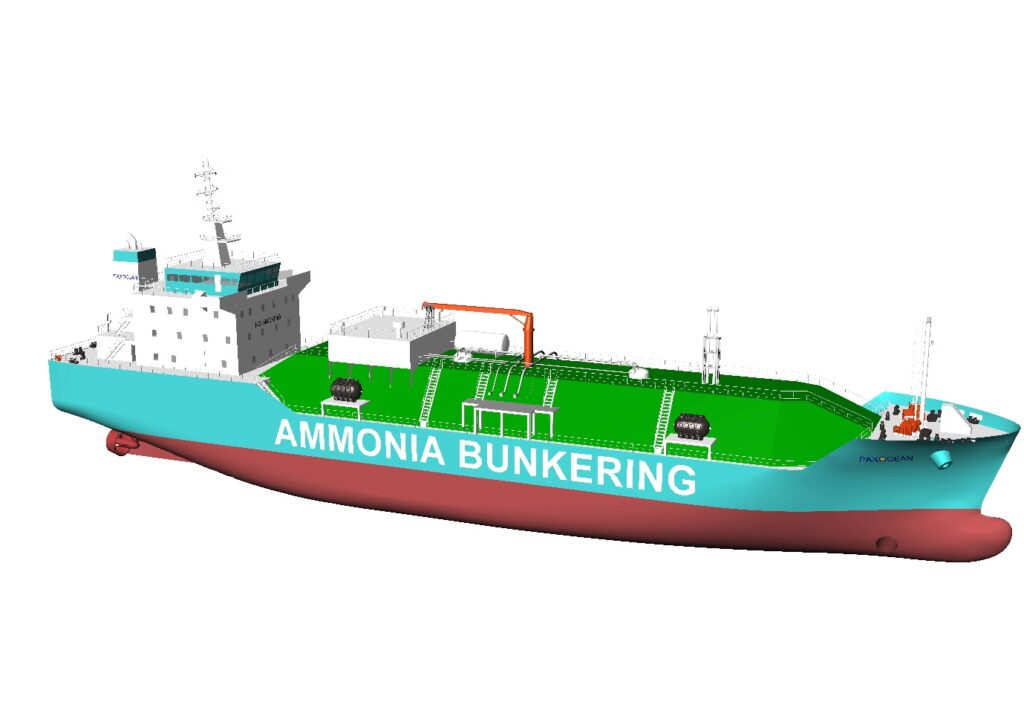 PaxOcean Engineering Pte. Ltd. has signed a Memorandum of Understanding (MOU) with Singapore-based bunker vessel operator Hong Lam Marine and classification society Bureau Veritas (BV) to jointly develop an ammonia bunker vessel design.
With the signing of this MOU, PaxOcean will focus on developing designs for ammonia-fueled and ammonia bunkering vessels, leveraging its deep technological capabilities and expertise.
Bureau Veritas will verify compliance with the most applicable and up-to-date rules, particularly those related to the handling of ammonia, drawing on BV's expertise in ammonia carriage and operations, and previous technical studies on ammonia as a fuel.
Hong Lam Marine's role is to provide input specific to operational data, and to support and validate the suitability of the ship design for commercial operations. The MOU will foster innovation in smart and autonomous ship technologies,and support the use of green ammonia as a sustainable fuel to help decarbonise global shipping.
The Maritime and Port Authority of Singapore (MPA) welcomes the formation of strong partnership among industry partners to develop, trial and test-bed new designs and innovative technologies needed to accelerate the transition to a clean economy.
Ms Quah Ley Hoon, Chief Executive of MPA said: "I congratulate the collaboration between Bureau Veritas, Paxocean Engineering and Hong Lam Marine to study the design of bunkering vessels with alternate future fuels such as ammonia. As a major bunkering hub, this forward-looking collaboration aligns with our maritime decarbonization efforts to be ready for a multi-fuel bunkering transition to support the future of International shipping."
Mr Tan Thai Yong, Chief Executive Officer of PaxOcean said: "It brings me great pleasure to share that we are adding a new fuel segment into our R&D focus by co-creating ammonia-based vessel solutions with forward looking and responsible companies like Hong Lam Marine and Bureau Veritas. We look forward to a long and fruitful partnership with Hong Lam Marine and Bureau Veritas, founded upon our complementary strengths in a push to accelerate the development of ammonia bunkering in Singapore."
Ms Caroline Yang, Chief Executive of Hong Lam Marine Pte Ltd said: "We are pleased to be participating in the project in partnership with highly respected establishments and experts in the era of decarbonisation and sustainability in the Singapore marine fuel industry and beyond.
Together, we look forward to contributing to the development and design of the ammonia bunker vessel as we focus on our long-term social and environmental responsibilities."
Mr David Barrow, Vice President, South Asia Zone of Bureau Veritas Marine & Offshore said: "Ammonia has great potential as a zero-carbon marine fuel and can play a significant role to help shipping reach its decarbonisation goals, but to fulfil this potential, more work is needed to overcome the safety and operational challenges. These challenges can be overcome through cross-industry collaboration, and we are very pleased to be working with PaxOcean and Hong Lam Marine to develop an ammonia bunker vessel design that de-risks ammonia as a marine fuel."
- END -
About PaxOcean
A subsidiary of Kuok Singapore Limited, PaxOcean owns and operates five shipyards located in Singapore, China and Indonesia. First established in 2007 in Singapore, PaxOcean offers a wide range of services covering integrated solutions, newbuilding, module fabrication, green recycling, repairs and conversion of conventional and renewable energy assets.By providing holistic solutions from concept to reality, PaxOcean's experience in the region as a provider of renewable energy and sustainability solutions through the adoption of digital and green technologies will help to accelerate the momentum in the maritime sector's decarbonisation efforts.
For more information, visit us at www.paxocean.com
About Hong Lam Marine
Incorporated in Singapore in 1981, Hong Lam Marine is one of the most established and leading Owner-Operators of bunker tankers in Singapore. We have always been in the forefront of the industry with newer and quality tankers with advanced technology in our commitment to provide better services to our customers. They are mainly the major Oil companies, prominent Independent oil traders and Government agencies. We operate a fleet of about 36 tankers operating in Singapore, Malaysia and Australia for bunkering fuels, bulk lubricants supply and the carriage of Jet A-1 to Changi Airport. Other vessels operate regionally transporting petroleum, chemical products and asphalt. Together on ashore and on board our Management and team have established a reputation for safety and integrity in the Singapore marine industry.
For more information, please visit us at www.honglam.com.sg
About Bureau Veritas
Bureau Veritas is a world leader in laboratory testing, inspection and certification services. Created in 1828, the Group has more than 80,000 employees located in more than 1,600 offices and laboratories around the globe. Bureau Veritas helps its clients improve their performance by offering services and innovative solutions, in order to ensure that their assets, products, infrastructure and processes meet standards and regulations in terms of quality, health and safety, environmental protection and social responsibility.

Bureau Veritas is listed on Euronext Paris and belongs to the Next 20 index.
Compartment A, ISIN code FR 0006174348, stock symbol: BVI.

For more information, visit https://bureauveritas.com and https://marine-offshore.bureauveritas.com/