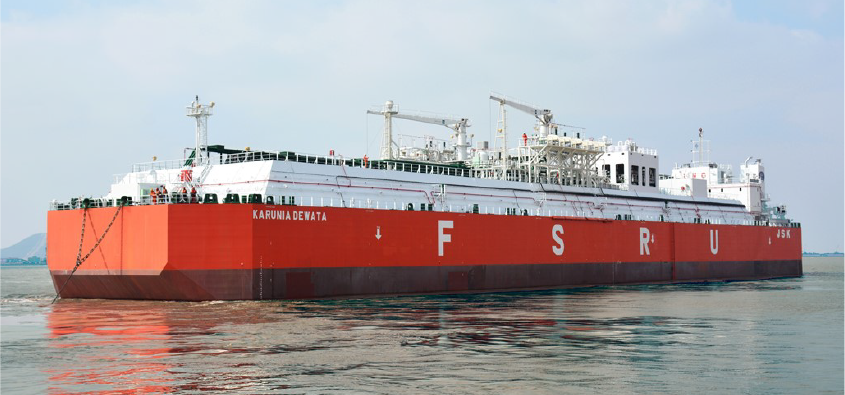 PaxOcean has delivered a 26,000m3 floating storage and regasification unit (FSRU), Karunia Dewata, PT. Jaya Samudra Karunia (JSK) on schedule with a perfect safety record.
Built to the proprietary PaxOcean design, this FSRU is the largest unit to be constructed in China and first to feature Type C cargo tanks. The unit has a LNG storage capacity of 26,000m3 and a maximum regasification throughput of about 50 million standard cubic feet per day (MMscfd).
Mr Bian Lixin, Engineering Director of PaxOcean, said, "The design is focused on simple and reliable operation for Indonesian water. By working closely with Lloyd's Register on classification requirements, and international maritime legislations for vessels carrying liquefied gases in bulk, we have successfully delivered to Karunia Dewata to JSK. Our achievement in delivering it on schedule is a result of our execution excellence and good teamwork with JSK, LR and KR."
About Jaya Samudra Karunia Group (JSK)
Established in 2004 with core business in coal transportation, JSK focus on domestic operations in Indonesia with presence in major parts of Indonesia along with two overseas arm in Singapore and Korea.
About PaxOcean Zhuhai
Spanning 20 hectares, PaxOcean Zhuhai is located in Guangdong, China. The modern and well-equipped yard is specially configured with three fully covered launchways specializing in the construction of high specification offshore support vessels. Our continuous growth in our extensive track record of building Anchor Handling Tug/ Supply vessels, Offshore Construction vessels and tugboats demonstrate our capability and expertise in delivering quality projects on-time.
For more information, visit us at www.paxocean.com