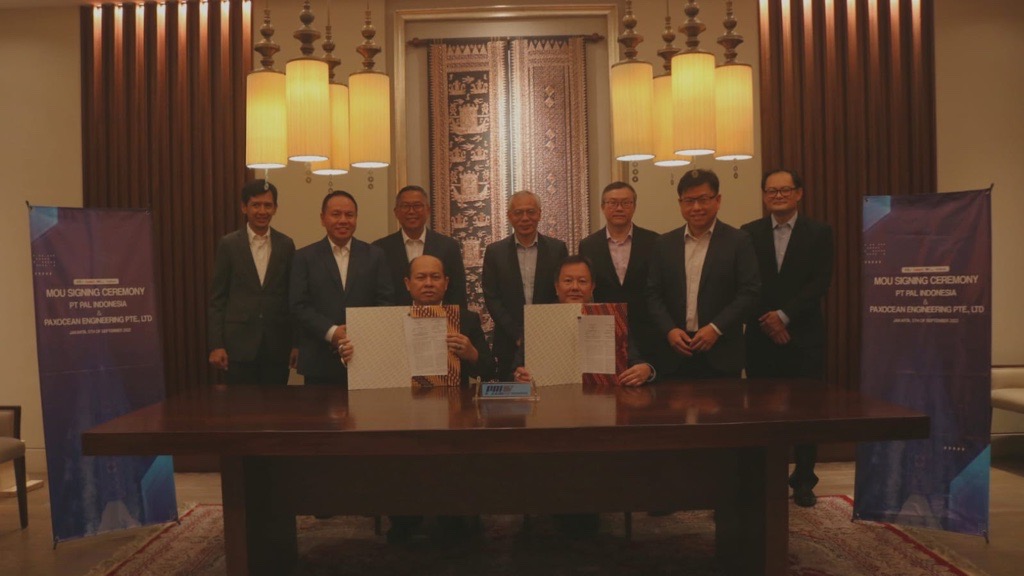 SINGAPORE, 5September 2022 –To increase business capacity in the field of ship maintenance, repair, and overhaul for all vessels, PaxOcean and PT PAL Indonesia (Persero) recently signed a memorandum of understanding (MoU) to seal their official cooperation in these areas. The MoU was signed by Mr Tan Thai Yong, Managing Director and CEO, PaxOcean and PT PAL Indonesia CEO, Dr Kaharuddin Djenod, and witnessed by the senior management of PT PAL Indonesia and PaxOcean Engineering and KSL Executive Office teams in Jakarta on 5 September 2022.
The purpose and objectives of the MoU are in the framework of a joint development plan and capacity building in the fields of marketing, maintenance, repair and overhaul of vessels. Dr Djenod shared that this collaboration happens at a strategic moment as PT PAL has been appointed as the lead integrator for all the shipyards throughout Indonesia, as well as being entrusted with the responsibility of conducting MRO for state-owned vessels together with other shipyards in Indonesia.
Furthermore, Dr Kaharuddin explained that "PAL is also developing Maritime Industry 4.0 or what we call IM4. In the future, with this implementation, production capacity is expected to increase by up to 3 times. At the later implementation stage, PaxOcean can participate as a user in monitoring strategic cooperation projects in the MRO field between PAL and PaxOcean," he concluded. The PaxOcean Engineering team also visited PT PAL's head office in Surabaya, to review PT PAL Indonesia's production facilities, especially in the field of ship maintenance and repair. In this collaboration, PT PAL is the lead integrator and PaxOcean, a strategic partner for the successful marketing and maintenance of repairs and overhauls to ensure timely and appropriate quality in accordance with international quality standards. "This collaboration is a good start. Hopefully in the future it can strengthen good relations between Indonesia and Singapore," added Mr. Tan Thai Yong. PaxOcean aims to provide full support for the Indonesian maritime industry, including mastery of capabilities and technology in maintaining and repairing ships, recovering and recycling maritime assets for an environmentally friendly future.
- END -
About PaxOcean
A subsidiary of Kuok Singapore Limited, PaxOcean owns and operates five shipyards located in Singapore, China and Indonesia. First established in 2007 in Singapore, PaxOcean offers a wide range of services covering integrated solutions, newbuilding, module fabrication, green recycling, repairs and conversion of conventional and renewable energy assets.
For more information, visit us at www.paxocean.com
About PT PAL Indonesia (Persero)
PT PAL Indonesia (Persero) is an Indonesian state-owned enterprise that manufactures ships for military and civilian use and conducts repairs and maintenance on ships and engineering.
For more information, please visit us at https://www.pal.co.id/